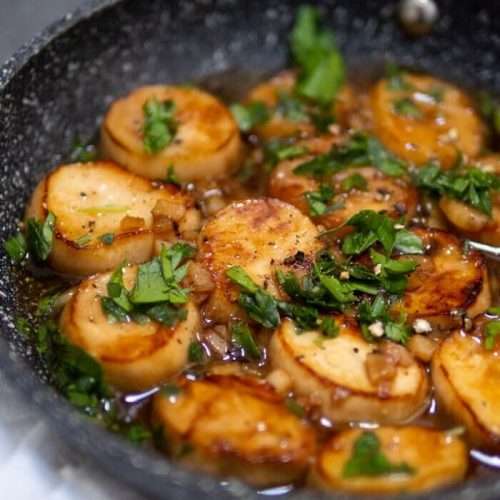 King Oyster Mushroom Scallops
A favorite of Joe and wife Barbara from The Edgy Veg. These vegan scallops are made of king oyster mushrooms marinated with a vegan garlic butter sauce! Enjoy as an appetizer or add to your favorite pasta!
Ingredients
6

large king oyster mushrooms
Ingredients Marinate
1

cup

hot vegetable broth

2

tablespoons

white miso

1

tablespoon

soy sauce or gluten-free tamari

1½

teaspoons

seaweed or kelp granules

1

tablespoon

olive oil
Ingredients Lemon Butter Sauce
2

tablespoons

fresh lemon juice

sea salt and black pepper,

to taste

2

tablespoons

fresh parsley,

chopped

3

tablespoons

vegan butter

2

garlic cloves,

minced
Instructions
With a vegetable brush, remove any dirt or debris from mushrooms and slice off the woody ends and mushrooms caps. Slice the stems into 1 inch long pieces. Set aside.
Prepare The Marinate
In a large bowl combine: 1 cup hot vegetable broth, 2 tablespoons white miso, 1 tablespoon soy sauce or gluten-free tamari. 1½ teaspoons kelp, and 1 tablespoon olive oil. Whisk until miso is dissolved.

Add the mushrooms and marinate for 15 minutes to 2 hours. Note: Overnight is preferred.
After your mushrooms have marinated
In a large skillet over medium heat melt 1 tablespoon vegan butter.

Place marinated mushrooms flat side down and brown for 6 to 8 minutes on each side. Set aside and keep warm.
Prepare The Lemon Butter Sauce
Melt 2 tablespoons vegan butter.

Add 2 cloves minced garlic. Cook stirring frequently for 1 minute or until fragrant.

Stir in 2 tablespoons lemon juice and season with salt and pepper.
To Serve
Serve mushroom scallops in a bowl or serving dish. Pour the garlic butter sauce over the mushrooms. Garnish with parsley.
About the Author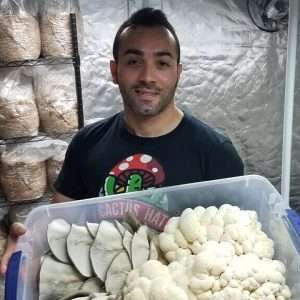 Cactus Hat Mushrooms was founded in Tampa, Florida by local Fireman Joseph Iovino. Committed to fitness and healthy eating, Joe became frustrated because there was a lack of quality mushrooms in Tampa. At the grocery store, the mushrooms were generic and almost expired. To solve this problem, he started growing them on his own. He soon realized that there is a huge difference between store-bought mushrooms compared to freshly grown mushrooms.
In addition to the great taste, Joe also realized the countless health benefits that eating mushrooms offers. As a Fireman, being in shape and living a healthy lifestyle is vital to the job. After he started growing a few different varieties of mushrooms, it became his mission to offer these healthy mushrooms to the people of Tampa and surrounding areas.
Now Cactus Hat Mushrooms has entered local restaurants, farmers' markets, and to the table of many homes. Cactus Hat Mushrooms have become especially popular among Vegans.