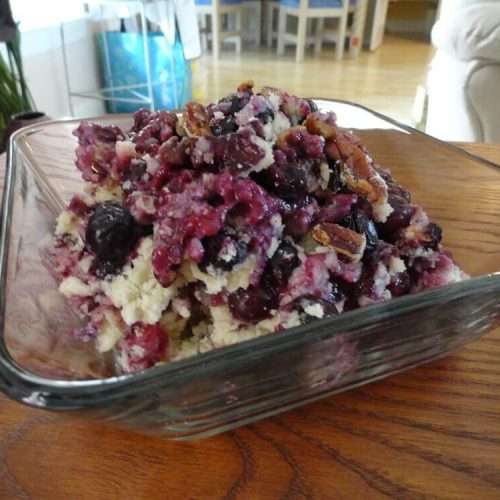 Blueberry Pecan Crunch
Recipe is courtesy of Jean Anderson for the NCDA&CS featuring NC Blueberries and Pecans.
Equipment
13 x 9 x 2 inch baking dish

pastry blender

nonstick cooking spray
Ingredients
Homemade Biscuit Mix (commercial biscuit mix can be used)
2½

cups

all-purpse flour,

sifted

2

tablespoons

double-acting baking powder

4

teaspoons

sugar

1

teaspoon

salt

10

tablespoons

cold unsalted butter
Crumble Mix
1½ (6 cups)

quarts

fresh or frozen blueberries

1

teaspoon

orange zest,

finely grated

½

cup

fresh orange juice

¾

cup

sugar

¾ (1½ sticks)

cup

unsalted butter,

melted

1

cup

pecans,

coarsely chopped
Optional
1

cup

heavy cream,

whipped into small peaks or a pint of vanilla ice cream.
Instructions
Lightly spritz 13 x 9 x 2-inch baking dish with nonstick cooking spray.

In a large bowl combine, 2⅔ cups sifted purpose flour, 2 tablespoons baking powder, 4 teaspoons sugar, and 1 teaspoon salt. Whisk well.

Using a pastry blender add 10 tablespoons cold butter. Cut butter into flour mixture until it is the consistency of small lentils. Set aside.

In a separate bowl toss 1½ quarts of blueberries and 1 teaspoon orange zest.

Spread over bottom of baking dish and drizzle with ½ cup orange juice.

In a separate bowl add 2⅔ cups biscuit mix and ¾ cup sugar. Mix well.

Sprinkle mixture evenly over top of blueberries.

Drizzle ¾ cup melted butter evenly and scatter with 1 cup chopped pecans.

Bake 45 to 50 minutes or until lightly browned.

Garnish with 1 cup whipped heavy cream or a pint of vanilla ice cream. Serve at once.
About the Author

The N.C. Department of Agriculture and Consumer Services' divisions have responsibilities in regulatory and service areas covering agronomy; animal health; weights and measures; gas and oil inspection; crop and livestock statistics; USDA commodity distribution; state farm operations; food, drug and cosmetic testing for purity; agricultural marketing and promotion; agricultural marketing grading; international agricultural crop and livestock marketing; operation of the North Carolina State Fair and North Carolina Mountain State Fair; operation of four state farmers markets; research station operations; seed and fertilizer inspection; nursery and plant pest eradication activities; regulation of the structural pest control industry; agricultural environmental issues; soil and water conservation; forest management and protection; state and federal agricultural legislation; and agricultural economic analysis.