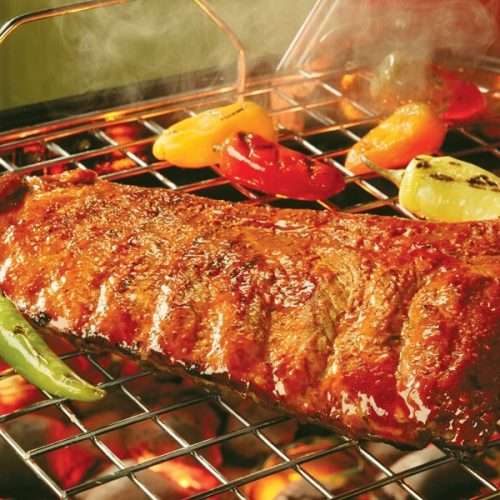 Fire-Cracker Pork Ribs
This fourth of July how about trying a hot and spicy pork ribs recipe — perfect for those who love spicy foods. If you're unsure how to make pork spareribs, this recipe is an easy introduction to this versatile cut of meat. 
Ingredients
4

pounds

pork spareribs,

St. Louis-style ribs

1

tablespoon

paprika

1

teaspoon

onion powder

1

teaspoon

garlic powder

1

teaspoon

chili powder

¾

teaspoon

dried oregano

½

teaspoon

pepper

¾

cup

buffalo-style wing sauce
Instructions
Pat ribs dry with paper towels.

In a small bowl mix together, 1 tablespoon paprika, 1 teaspoon onion powder, 1 teaspoon garlic powder, 1 teaspoon chili powder, ¾ teaspoon oregano, and ½ teaspoon pepper.

Rub mixture evenly over both sides of ribs. Wrap ribs in plastic wrap and refrigerate for up to 3 hours, if desired.

In a covered charcoal grill, prepare a medium-hot fire. Bank coals on both sides of grill. Place ribs, bone side down, in center of grill over drip pan. Cover and grill over indirect medium heat for 1 hour, adding more briquettes, if necessary, to maintain an even grill temperature.

Generously brush ribs with wing sauce. Continue to grill, covered, for 30 minutes more or until meat is very tender, generously brushing with sauce again after 15 minutes.

Transfer ribs to cutting board. Loosely cover with foil and let rest for 10 to 15 minutes.

To serve, brush ribs with sauce and cut into serving-size portions.
About the Author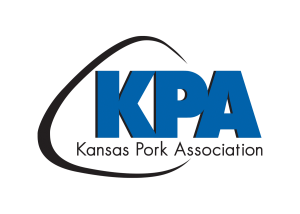 The year was 1956, and Kansas pork farmers were faced with a challenge. The industry and the nature of which a farmer conducted his business were changing. The days of a farmer who raised pigs to meet the demand for pork lard were diminishing. The need for communication and collaboration between pork farmers was growing and demand for lean pork at the grocery store was rising. Kansas pork farmers were in need of an organization and leadership.
At the request of farmers, Wendell Moyer, an extension specialist in the Kansas State College Animal Husbandry Department, invited 30 pork farmers to a meeting on campus and the Kansas Swine Improvement Association was created. 
In the years that followed, farmers instituted a national pork checkoff to help fund research, education and projects like eatpork.org. Pork farmers could look to the Council to take the lead on checkoff activities and non-checkoff activities were fueled by the Kansas Pork Association. In 2012, the two entities merged under the Kansas Pork Association brand.
Yes, our farms have changed since 1956, but at the end of the day, what remains the same is that our Kansas farmers love raising pigs and we want to share their hard work with you. We encourage everyone reading this to do one thing, get to know Midwestern pork farmers, whether that is here or in your community. Our mission is to help you know about your food and to help our farmers pass down their farms to the next generation. From our family to yours, thanks for being a part of our story.