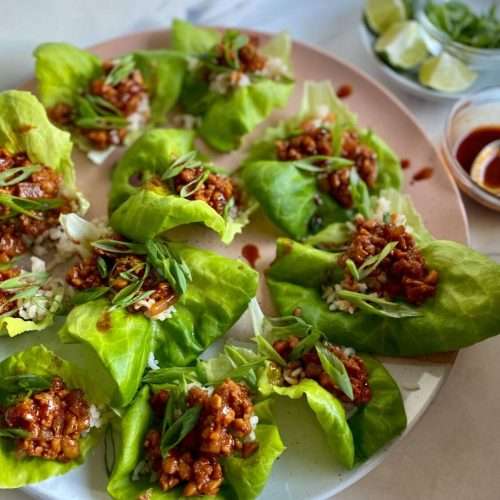 Gochujang Tempeh Lettuce Cups
Tempeh may just be my favorite plant-based meat alternative of the moment. Not only does it possess idyllic texture, but it's also quite substantial and it absorbs flavors well. Another deeming quality that Tempeh has going for it, is it's incredibly simple to prepare. For this recipe, we're going to crumble the Tempeh and marry it into a Gochujang-Lime sauce. It packs a punch of flavor and some nice spice. Brick Street Farms Butterhead Lettuce is the obvious vessel of choice for these lettuce cups. It makes for the perfect two-bite appetizer, while also doubling as a satisfying option for lunch or dinner. My initial thought when generating this recipe was to also incorporate chopped Kimchi along with the juices. Though, I found the addition of the chopped Kimchi to be a bit overwhelming, mainly in the spice department. However, if you're someone who prefers a bit more heat, don't shy away from the Kimchi – it adds a whole other dimension to the dish.
Equipment
Dutch oven or cast iron skillet
Ingredients
Gochujang-Lime Sauce
½

cup

Gochujang

¼

cup

Kimchi juice,

from a jar

1

tablespoon

soy sauce

½ (1½ tablespoons)

fresh lime,

juiced
Lettuce Cups
8

ounces

Tempeh

½

medium red onion,

diced

1½

cups

rice,

cooked

1

head

Brick Street Farms butterhead lettuce

¼

cup

green onion,

cut on a bias

2

tablespoons

olive oil

1

teaspoon

salt

1

cup

Kimchi,

roughly chopped
Instructions
Gochujang-Lime Sauce
In a medium bowl add: ½ cup Gochujang, ¼ cup Kimchi juice, 1 tablespoon soy sauce, and 1½ tablespoons lime juice. Mix well and season with salt as needed. Reserve ¼ cup of sauce and set aside.
Lettuce Cups
Cook rice using your preferred method.

Break up the Tempeh into small ½ inch crumbles and add Gochujang-Lime Sauce. Mix well.

Heat Dutch oven or cast iron skillet over medium heat and add in 2 tablespoons olive oil.

Add in ½ medium diced onion and season with salt. Stir occasionally for 6 to 8 minutes or until onions soften.

Add Gochujang sauce and Tempeh mixture. Continue to cook and stir for 4 to 5 minutes or until well heated. Remove from heat.

While the Tempeh mixtures cooks, get your area prepped to assemble the lettuce cups.

Wash and dry lettuce and tear individual leaves from the head.

Arrange in a single layer on a serving plate.
To Assemble Lettuce Cups
Add a spoonful of cooked rice to each lettuce cup and top in the following order: cooked Tempeh mixture, chopped Kimchi, and a drizzle of reserved Gochujang-Lime Sauce.

Top with a pinch of chopped green onion and serve.
About the Author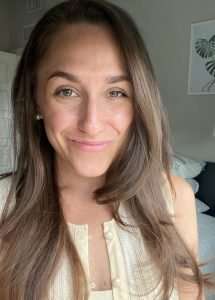 Abby is an Ohio Native and resided in the Buckeye State for the first 27 years of her life. In June of 2017, she moved to beautiful St. Petersburg, FL with her husband, Mike. She has a genuine passion for cooking and a love affair with food - she's deeply infatuated with the art, experimentation, and theatrics of it all. When Abby isn't in the kitchen, you can usually find her reading cookbooks, checking out the newest restaurant in town, spending quality time with her husband or sipping on some natural wine.