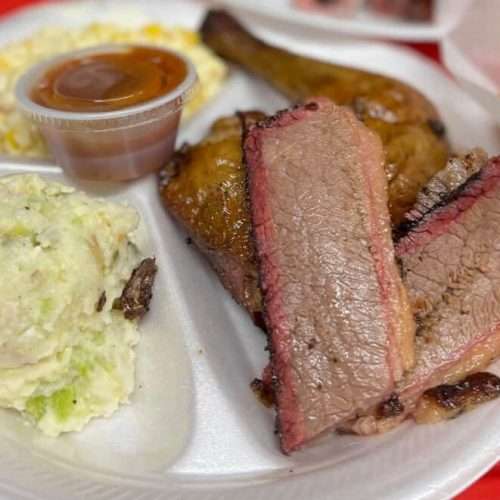 Grandpa Davila's Potato Salad
Looking for some delicious recipes to try for Father's Day? Davila's BBQ has got you covered. "Grandpa Davila's Potato Salad," is perfect for serving as a side dish for your Father's Day feast. It's not served hot, but the pickle and touch of mustard bring some tanginess to this family favorite.
Ingredients
3

pounds

russet potatoes,

peeled

1

large egg,

hard boiled, peeled, and finely chopped

2

celery ribs,

finely chopped

¼

green bell pepper,

diced

¼

medium yellow onion,

diced

¼

cup

sweet relish

¼

cup

sweet pepper,

diced

¼

cup

sugar

½

teaspoon

salt

½

teaspoon

freshly ground black pepper

½

cup

mayonnaise

1

teaspoon

prepared yellow mustard
Instructions
Boil potatoes in a large pot of water for 25 to 30 minutes or until soft.

Drain the potatoes, mash them, but keep them slightly lumpy. Set aside to cool.

Bring a small saucepan of water to a boil while the potatoes are cooking. Boil 1 egg for 15 minutes. Allow egg to cool. Peel and finely chop.

In a medium bowl, add 1 finely chopped hardboiled egg, 2 finely chopped celery ribs, ¼ cup chopped bell pepper, ¼ cup chopped onion, ¼ cup sweet relish, and ½ teaspoon sweet pepper.

Stir into the cooled mashed potatoes, ¼ cup of sugar, ½ teaspoon salt, and ½ teaspoon pepper.

Add chopped egg and vegetable mixture, ½ cup mayonnaise, and ½ cup mustard to the mash potatoes. Mix thoroughly and serve.
About the Author

In 1959, Davila's BBQ was first opened by Raul Davila in an old, abandoned schoolhouse in Seguin, TX. With no decorations and no cash register, the Davila family nestled in the back two rooms of the restaurant and opened for business. Nearly sixty years and three generations later, Davila's BBQ has continued to grow and been nationally recognized as one of the top BBQ places in Texas.