What an amazing trip it was!

Special thanks to Chest our bus driver for keeping us safe on the roads during the terrible weather!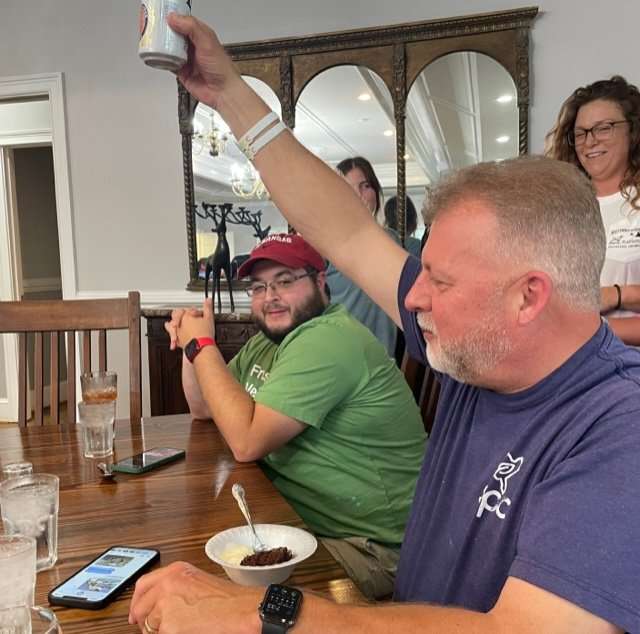 Back to Southern Woods Plantation for yet another amazing dinner! The fellowship continues and we also celebrated Mike Roberts' Birthday! I really enjoy hearing the group continue to discuss what they learned, what they had never heard and the new found knowledge they are taking back to their companies with them. Especially the relationship & communication skill I keep stressing. The STEP-UPP program is all about being a liaison between the grower/shipper and this group that buys and sells the product. With each side learning from the other to build relationships and together make the produce world even stronger!
Friday morning, back on the bus and headed to The University of Georgia's Tifton Campus. This is where Dr. Michael Toews, shared much information to the group about their campus and their Research, Extension and Education. We went out to see some of their research being grown and it was explained to us the "how and why" and what issues they are trying to solve. Of course the notepads were out for this one! To say it was very interesting and informative is an understatement. The group got to witness first hand how important research in produce is and how the farmer depends on the information they provide.
I also have to say that we did dodge a lot of crazy weather! Thanks to each facility we toured that had a backup plan when the heavy rain hit and the fields were too wet to go out into.
Thanks to Mike Roberts, VP of Produce Operations at Harps Food Stores, Inc. and Gary Baker, SR Director of Fresh at Merchants Distributors, LLC. For doing an amazing job with the STEP-UPP group! And of course SEPC for supporting it and David Sherrod for taking time out of his busy schedule to join us on the tours. Of course thanks for my new role as "Den Mother" and allowing me to still be involved with this wonderful program.
On a side note….those notepads that I kept mentioning will come in handy when Gary Baker starts sending out exams to the group. It's not all fun and games. They will be drilled on what they learned!
Don't forget SEPC is accepting applications for the STEP-UPP 2024 class now through Friday, July 7, 2023 before 5 pm EST. Only 10-12 students are accepted each year, so get your application in today!