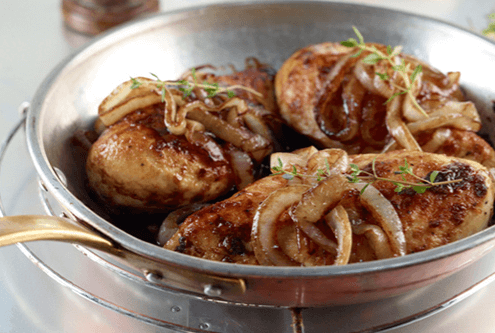 Balsamic Chicken With Vidalia Onions & Thyme
Vidalia onions and balsamic vinegar make for a delicious combination at the dinner table!
Ingredients
3

tablespoons

all-purpose flour

¾

teaspoon

salt,

divided

½

teaspoon

black pepper,

divided

1

pound

boneless (4 pieces), skinless chicken breasts

2

teaspoons

olive oil

1

medium RealSweet® Vidalia onion,

thinly sliced

1

cup

chicken broth

2

tablespoons

balsamic vinegar

1

tablespoon

fresh thyme,

chopped

2

teaspoons

butter
Instructions
On a plate, combine 3 tablespoons flour, ½ teaspoon salt, and ¼ teaspoon pepper. Dredge 4 pieces of chicken in flour mixture to coat; shake off excess.

Heat 2 teaspoons olive oil in a large, nonstick skillet over medium-high heat; add 4 pieces chicken and cook, flipping once, until golden brown, about 7 minutes (time will vary depending on thickness of chicken breasts). Remove chicken and cover to keep warm.

Add Vidalia onions to skillet and sauté over medium-high heat for 4 minutes or until lightly browned.

Add to skillet, 1 cup chicken broth, 2 tablespoons balsamic vinegar, 1 tablespoon freshly chopped thyme, ¼ teaspoon salt, and ¼ teaspoon pepper.

Bring to a boil and cook, stirring often, until onions are tender, about 5 minutes.

Remove skillet from heat and stir in 2 teaspoons of butter until melted.

Spoon sauce over chicken and serve.
About the Author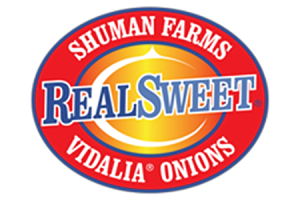 Headquartered in the center of the Vidalia® growing region in southeast Georgia, family-owned Shuman Farms has been in the sweet onion industry for more than 35 years. Our legacy began in the mid-1980s with a small family farm in Reidsville, GA. Today, we are an industry-leading, year-round grower and shipper of premium sweet onions. We are dedicated to producing the highest quality sweet onions. Our sweet onions are harvested by hand and then moved to state-of-the-art packing facilities where they are further dried, cleaned, sorted, and graded for shipping. Sophisticated systems guarantee the premium quality of RealSweet sweet onions throughout our year-round program. Vidalia sweet onions have always been the benchmark at Shuman Farms, but their availability is seasonal (mid-April to late August). To ensure customers get the best-tasting, highest-quality sweet onions all year long, we have growing ventures in Peru, Texas, and Mexico. These regions provide the best quality onions throughout the year. We also offer organic sweet onions, an important part of the program as the organics category continues to grow in popularity.