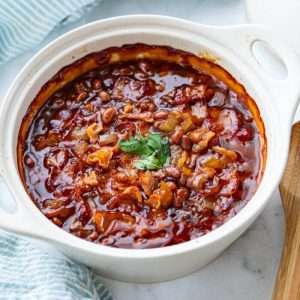 BBQ Bacon Baked Beans With Sweet Onions
Impress your friends and family at the next cookout with this delicious sweet and tangy side dish! Recipe photographed by Jodi Danen of Create Kids Club
Ingredients
1

large (28 ounce) can country style baked beans,

drain some juice

½

medium RealSweet® onion,

diced

3

tablespoons

BBQ sauce

2

teaspoons

Worcestershire sauce

2

tablespoons

steak sauce

⅓

cup

dark brown sugar,

packed

4

slices

bacon,

cut in ½ inch pieces
Instructions
In a casserole dish combine 1 can baked beans, ½ medium diced onion, 3 tablespoons BBQ sauce, 2 teaspoons Worcestershire sauce, 2 tablespoons steak sauce, and ⅓ cup packed dark brown sugar. Mix well.

Cover top of mixture with bacon pieces.

Bake for 30 to 45 minutes, or until beans are dark and thick, and bacon is cooked.
About the Author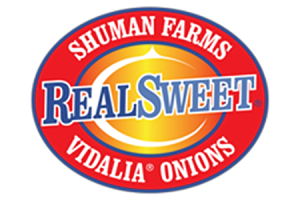 Long before Vidalia sweet onions became a worldwide favorite in the 1980s, they were a local treasure in the small region of Southeast Georgia where they grow. Only the specific soil and climate in that area can produce a Vidalia sweet onion, and you literally can't grow one anywhere else. Mr. Buck Shuman was one of the pioneers of the Vidalia industry -- in fact, several of the most popular varieties in production today came about under Mr. Buck's watchful eye. A few years backs, he was inducted into the Vidalia Onion Hall of Fame. And now, his son, John Shuman, has built one of the world's largest sweet onion empires under the banner of Shuman Farms. And Shuman Farms has two labels it brings sweet onions to market under -- RealSweet®, and... you guessed it, Mr. Buck's. John Shuman came home from college in the 1990s and picked up his father's work. Since then, he's grown Shuman Farms from a small broker of other growers' onions to a world industry force with multiple grower-partners, including John himself, who was recently named Vidalia Onion Grower of the Year. Shuman Farms is the industry leader when it comes to Vidalias -- and when that season (sadly) runs out in early September from its April start, Shuman Farms is also the leading grower and importer of Vidalia's cousin, Peruvian sweet onions, from September to March