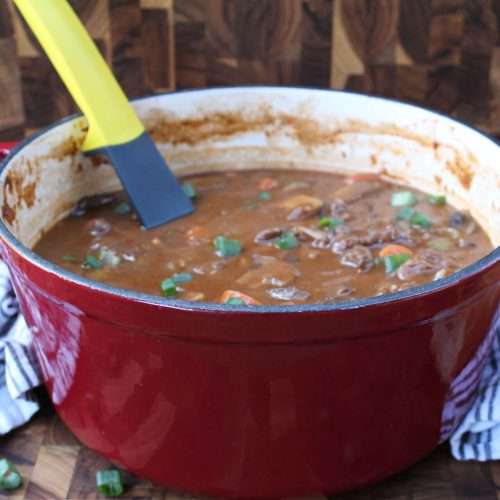 Beef Stew With Baby Vidalia® Onions
This recipe was developed by our friend Tracy Shaw from Food Wine Sunshine. Nothing is more hearty during the winter months than beef stew. This version, made with baby Vidalia® onions, is perfect! Get them before they grow up! They are only available from November through mid-March.
Equipment
Large stockpot or Dutch oven
Ingredients
2

(2¼pounds)

sirloin steak,

diced

2

(1 cup)

baby Vidalia® onions,

diced. Save the greens for serving. If you can't find Baby Vidalia onions in stores substitute with 1 cup diced sweet onion.

2

large carrots,

peeled and diced

2

celery ribs,

diced

3

garlic cloves,

minced

8

ounces

baby Bella mushrooms,

sliced

3

tablespoons

all-purpose flour

2

tablespoons

tomato paste

½

cup

dry red wine

3

cups

beef stock

1

teaspoon

dried thyme leaves,

4 sprigs if using fresh thyme

2

bay leaves

2

russet potatoes,

peeled and cut into ½-inch chunks

salt and ground black pepper to taste

olive oil cooking spray
Instructions
In a large stockpot or Dutch oven, heat olive oil spray over medium heat.

Season diced sirloin steak with salt and pepper and add to pot. Stir occasionally until evenly browned, about 6 to 8 minutes.

Add 1 cup diced onion, 2 large peeled and diced carrots, 2 diced celery ribs. Stir occasionally, about 3 to 4 minutes.

Add 3 minced garlic cloves and 8 ounces sliced baby Bella mushrooms. Stir occasionally, about 3 to 4 minutes.

Sprinkle in 3 tablespoons flour. Mix well.

Add 2 tablespoons tomato paste, 1 teaspoons dried thyme leaves, and 2 bay leaves. Thoroughly combine.

Pour in ½ cup wine (scraping any browned bits from the bottom of the pot).

Stir in 3 cups beef stock. Bring to a boil and reduce heat.

Add 2 peeled and cut potatoes. Simmer for at least 50 minutes until beef and potatoes are tender.

Remove and discard bay leaves before serving.

Top with diced greens from baby Vidalia onions.
About the Author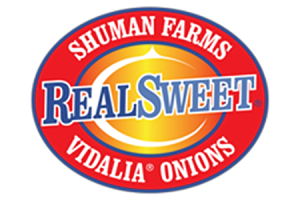 Long before Vidalia sweet onions became a worldwide favorite in the 1980s, they were a local treasure in the small region of Southeast Georgia where they grow. Only the specific soil and climate in that area can produce a Vidalia sweet onion, and you literally can't grow one anywhere else. Mr. Buck Shuman was one of the pioneers of the Vidalia industry -- in fact, several of the most popular varieties in production today came about under Mr. Buck's watchful eye. A few years backs, he was inducted into the Vidalia Onion Hall of Fame. And now, his son, John Shuman, has built one of the world's largest sweet onion empires under the banner of Shuman Farms. And Shuman Farms has two labels it brings sweet onions to market under -- RealSweet®, and... you guessed it, Mr. Buck's. John Shuman came home from college in the 1990s and picked up his father's work. Since then, he's grown Shuman Farms from a small broker of other growers' onions to a world industry force with multiple grower-partners, including John himself, who was recently named Vidalia Onion Grower of the Year. Shuman Farms is the industry leader when it comes to Vidalias -- and when that season (sadly) runs out in early September from its April start, Shuman Farms is also the leading grower and importer of Vidalia's cousin, Peruvian sweet onions, from September to March.