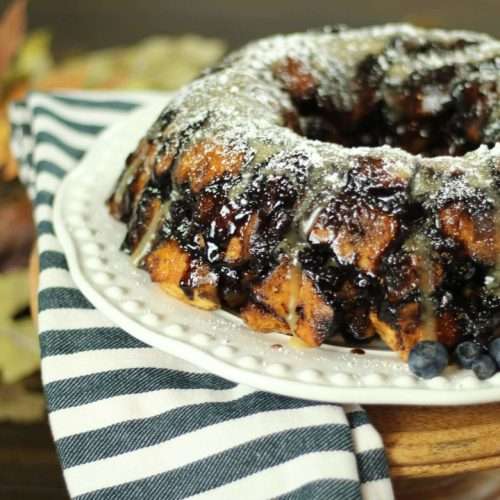 Blueberry Pumpkin Spice Monkey Bread
Who doesn't like Monkey Bread. Check this recipe out. It's bound to please.
Ingredients
Ingredients For The Bread
1

package fresh Wish Farms Blueberries

2

(16 ounce)

tubes refrigerated cinnamon bun dough

½

cup

granulated sugar

1

teaspoon

cinnamon

1

teaspoon

pumpkin pie spice

1

cup

brown sugar,

packed

¼

cup

butter

½

cup

canned pumpkin

½

teaspoon

vanilla extract

3

ounces

cream cheese
Ingredients For The Glaze
½

cup

Wish Farms blueberries

½

tablespoon

brown sugar,

packed

½

teaspoon

vanilla extract

1

teaspoon

cinnamon
Instructions
Prepare The Bread
Grease a 12 cup Bundt pan with butter, set aside.

In a large resealable bag, mix together ½ cup granulated sugar, 1 teaspoon cinnamon, and 1 teaspoon pumpkin pie spice. Mix well.

Remove biscuits from their package and cut each biscuit into four pieces.

Place the biscuit pieces in the bag with the sugar mixture and shake well to coat.
Prepare The Pumpkin Mixture
In a small saucepan over medium heat melt together 1 cup packed brown sugar, ¼ butter, ½ cup canned pumpkin, 1 teaspoon vanilla, and 3 ounces cream cheese until melted and smooth.
Assemble The Monkey Bread
Place half of the biscuit pieces into the prepared bundt pan.

Top with half of the pumpkin mixture and remaining biscuit pieces.

Top with the second half of the pumpkin mixture, alternating with ½ cup fresh blueberries.

Bake 35 to 40 minutes or until biscuits are golden and cooked through.

Allow the monkey bread to cool in the pan for 10 minutes before inverting onto a plate.
Prepare The Glaze
In a medium bowl whisk together ½ cup packed brown sugar, ½ teaspoon vanilla, 1 teaspoon cinnamon, and ⅓ cup blueberries until smooth.

Drizzle over cooled monkey bread as desired.
About the Author

Wish Farms has a long history dating back to 1904, when Harris Wishnatzki arrived in Ellis Island and began to sell fruits and vegetables from a pushcart on the streets of New York City. Fast forward to 1929 – Harris purchases property in Plant City, FL establishing a buying and shipping operation, which over the next 80 years would become one of the bigger berry operations in Florida. In 2010 the Wish Farms brand was born. Third-generation owner Gary Wishnatzki continues to innovate – even now he's leading the industry effort to develop a new automated harvester. Today Wish Farms produces strawberries, blueberries, blackberries, and raspberries from a network of farms in the Western Hemisphere, though Florida is still the homestead. There's already a 4th generation of Wishnatzkis onboard – and a fifth is coming along right behind.