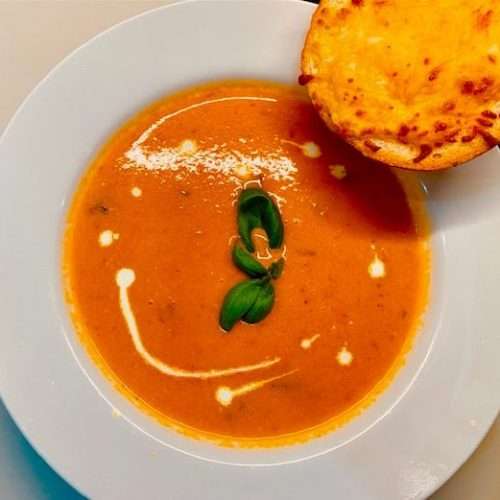 Deepa's Delicious Tomato Soup
Tomato soup is always a favorite. Serve with grilled cheese for a winning combination.
Ingredients
3

pounds

fresh tomatoes,

cut in half

1

garlic head,

outer skin peeled and top cut off

1

onion,

peeled and halved

3

tablespoons

olive oil

1

tablespoon

butter

¼

teaspoon

crushed red pepper flakes

¼

teaspoon

cayenne pepper

1

teaspoon

fresh thyme

5 to 6

fresh basil leaves,

roughly chopped

4

cups

chicken or vegetable stock

¼

cup

heavy cream

salt & pepper
Instructions
Line baking sheet with parchment paper.

Gently toss 3 pounds halved tomatoes and 1 peeled and halved onion with 2 tablespoons of olive oil. Place on baking sheet.

Spray olive oil on top of the exposed side of garlic bulb and add to the roasting pan. Sprinkle salt and pepper on top of the vegetables. Roast for 30 to 40 minutes.

In a blender add, 1 cup of stock, 1 garlic bulb pulp (squeeze the garlic with a garlic press or by hand for the pulp), roasted onions, and roasted tomatoes. Blend well.

In a pot, heat remaining olive oil and butter. Add pureed vegetables and pour in remaining stock. Let it come to a boil.

Add to pot ¼ teaspoon crushed red pepper, ¼ teaspoon cayenne pepper, 1 teaspoon thyme, and 5 - 6 chopped basil leaves.

Pour ¼ cup cream into the pot. Let it cook for a few minutes.

Add salt and pepper to taste.
Serve with grilled cheese or toasted bread.
About the Author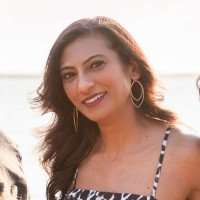 Deepa Dayal is the Senior Staff Account for DiMare Fresh. Her life has been an exciting culinary journey. Born in Fiji and then living in Australia and New Zealand before moving to the US, she became acquainted with worldly flavors. Australia and New Zealand are known for their food scenes due to their ethnically diverse populations. So now, it is only fitting that Deepa works in fresh produce as an accountant for DiMare Fresh.