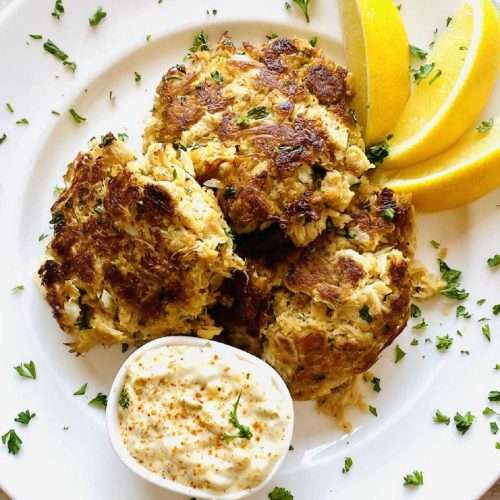 Lion's Mane Mushroom Crab Cakes
A favorite recipe of Joe and his wife Barbara from Aubrey's Kitchen. These Lion's Mane Mushroom Recipe will blow your mind, featuring a Vegan Mushroom Crab Cake so delicious you won't believe it's meatless!
Ingredients
8

ounces

Lion's Mane mushrooms,

shredded

1

egg or flax egg,

slightly beaten

¼

cup

onion,

finely diced

1

tablespoon

mayonnaise or vegan mayonnaise

1

teaspoon

Worcestershire sauce

¾

teaspoon

old bay seasoning

1

teaspoon

Dijon mustard

1

tablespoon

parsley,

finely chopped

2 - 3

tablespoons

of oil

½

cup

Panko breadcrumbs

¼

teaspoon

salt or to taste

¼

teaspoon

of pepper or to taste

lemon wedges for garnish,

Optional: To garnish.
Ingredients Tartar Sauce
¼

cup

mayonnaise or vegan mayonnaise

1

tablespoon

dill pickle relish

¼

teaspoon

old bay seasoning
Instructions
Prepare Lion's Mane Mushroom
Hand shred Lion's Mane Mushroom into small pieces resembling texture of flakey crab.

In a large bowl add: 1 slightly beaten egg, ¼ cup finely diced onion, 1 tablespoon mayonnaise, 1 teaspoon Worcestershire sauce, ¾ teaspoon old bay seasoning, 1 teaspoon Dijon mustard, 1 tablespoon finely chopped parsley, ¼ teaspoon salt, and ¼ teaspoon pepper. Mixing well.

Thoroughly mix in shredded mushrooms and ½ cup breadcrumbs.

Form mixture into 3 to 4 equal size round flat patties about ½ to ¾ inch thick.

Heat 2 to 3 tablespoons oil in a sauté pan on medium to high heat.

Cook patties for approximately 2 to 3 minutes per side until golden brown and cooked throughout.
Prepare Tartar Sauce
In a small bowl add: ¼ cup mayonnaise or vegan mayonnaise, 1 tablespoon dill pickle relish, and ¼ teaspoon old bay seasoning. Mixing well.
To Serve
Garnish Mushroom Crab Cakes with optional lemon wedges.
About the Author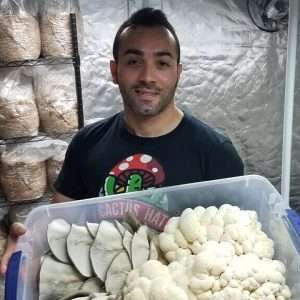 Cactus Hat Mushrooms was founded in Tampa, Florida by local Fireman Joseph Iovino. Committed to fitness and healthy eating, Joe became frustrated because there was a lack of quality mushrooms in Tampa. At the grocery store, the mushrooms were generic and almost expired. To solve this problem, he started growing them on his own. He soon realized there is a huge difference between store-bought mushrooms and freshly grown mushrooms.
In addition to the great taste, Joe realized the countless health benefits that eating mushrooms offers. As a Fireman, being in shape and living a healthy lifestyle is vital to the job. After he started growing a few different varieties of mushrooms, it became his mission to offer these healthy mushrooms to the people of Tampa and surrounding areas.
Now Cactus Hat Mushrooms have entered local restaurants, farmers' markets, and to the table of many homes. Cactus Hat Mushrooms have become especially popular among Vegans.