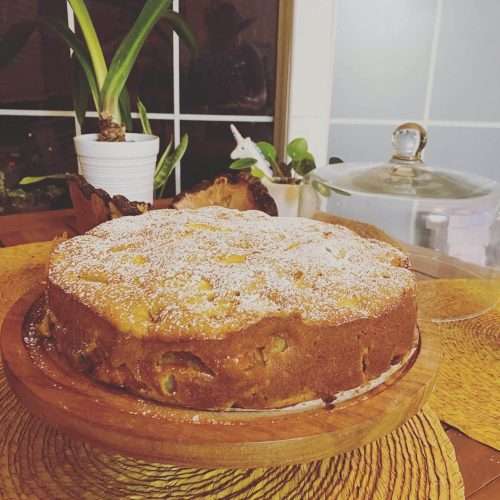 Marion's "All-American" Apple Cake With Pumpkin, Spices and Bourbon
Made in the style of a French Apple Cake, this recipe and its ingredients are distinctly American!
This cake is wonderful, served at room temperature but can also be gently re-warmed, if desired, and topped with ice cream or freshly whipped cream. You can't go wrong with the traditional, homemade vanilla bean, but I also love it with butter pecan, pistachio, or even coffee ice cream!
Equipment
9 inch springform pan Creator's Note: You can also bake a single batch in one regular 9" cake pan -- or use two and create a layer cake with the frosting of your choice! (Hello, back-up plan!) If you do decide to split the cake into two pans, I highly recommend a slight reduction in your baking time -- or at least, implore you to check on it a little earlier just to make sure it doesn't over-bake!

zester and juicer

standing or hand mixer

2 cooling racks

serving tray or cake stand.
Ingredients
1

cup

pumpkin puree.

Note: Make sure to steer clear of field pumpkins (save them for carving).

2-3

tablespoons

vegetable oil

½

pound

(2 sticks) butter,

browned and cooled

2¼

teaspoons

Mexican-style cinnamon

2¼

teaspoons

nutmeg

½

teaspoon

+ 1/8 teaspoon cloves

½

teaspoon

+ 1/8 teaspoon black pepper

3

cups

apples,

peeled and cut into 1-inch chunks. Note: Granny Smith are the traditional choice for baking, but I personally find them a bit too tart! I usually reach for crisper "pink" varieties like Fuji, Honeycrisp or Pink Lady.

4

tablespoons

lemon zest and juice

2¼

cups

all-purpose flour

4

teaspoons

baking powder

2

teaspoons

baking soda

2

tablespoons

salt

4

eggs,

separated and whipped. Note: Whipping the egg whites separately is technically an optional step -- I can't recommend it enough.

1⅓

cups

sugar

2

tablespoons

vanilla

4

tablespoons

bourbon or whiskey.

Note: If you don't indulge, substitute with Apple Cider Vinegar and/or increase the amount of vanilla extract. 

powered sugar to taste
Instructions
Prepare The Apples
Preheat oven to 375℉ and prepare a 9-inch springform pan.

Place 2 sticks butter in a small saucepan. Cook over medium heat until frothy and sputtering, scraping the browned bits that sink to bottom of the saucepan from time to time to prevent burning and taking on a bitter flavor.

In a bowl, add 2 ¼ teaspoons cinnamon, 2¼ teaspoons nutmeg, ½ teaspoon + ⅛ teaspoon cloves, ½ teaspoon + ⅛ teaspoon black pepper. Combine and set aside some of the spices for the topping.

Once butter is browned, remove from heat, and add spices. NOTE: Make sure the butter has cooled almost completely, but not re-solidified before mixing it into the rest of the batter.

In a second bowl, add peeled and cut apples. To prevent browning, toss the apples in 4 tablespoons lemon juice, and pinch of sugar. NOTE: Place apples in an airtight container while you mix the cake batter to help maintain freshness.
Prepare The Batter
In a standing mixer fitted with a paddle attachment or using a hand mixer, beat together, 4 egg yolks and 1⅓ cup sugar. Beat until fluffy and visibly lighter in color, approximately 3 - 5 minutes.

Add to mixing bowl, 1 cup pumpkin puree, 2 tablespoons vanilla, 4 tablespoons bourbon or whiskey, and 2 - 3 tablespoons of vegetable oil. NOTE: The vegetable oil helps blend the pumpkin puree and gives it a smoother texture, add gradually and use as little as possible. Mix until combined, scrapping down the sides and bottom of the bowl.

In the same bowl add remaining dry ingredients in parts, 4 tablespoons lemon zest, 2¼ cups flour, 4 teaspoons baking powder, 2 teaspoons baking soda, and 2 tablespoons salt. Mix well. Slowly add the browned butter mixture and set aside.

In a clean mixing bowl, beat 4 egg whites until medium-stiff peaks are formed.

Fold egg whites in gently 2 or 3 batches at a time into the batter. Note: Taking care to keep as much air in the batter as possible.

Fold in the apples until combined and immediately pour batter into your prepared pan(s).

Bake for 55 - 75 minutes or until a cake tester inserted into the bottom center of the cake comes out clean.
Cooling The Cake
Cool the entire cake pan on a cooling rack for at least 30 minutes.

Remove the side ring only. Note: Do not remove the bottom of the pan for another 2 - 3 hours.

In a bowl, add powdered sugar to taste and reserved spices. Combine and set aside.

Once cake is completely cooled, flip the cake over on the second cooling rack and remove bottom of the cake pan.

Carefully flip it right-side-up, transferring it from cooling rack to a serving tray or cake stand.

Dust the top of the cake with the powdered sugar mixture.
About the Author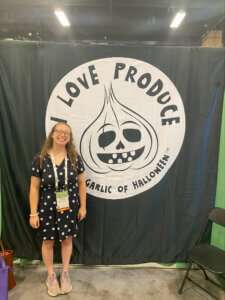 Marion was born and raised in Nashville, TN where she lives with her husband, Nate, two-year-old daughter and the family dog. In her spare time, she is a passionate baker and considers herself a "professional home cook" after spending a year pursuing pastry art full-time at Henrietta Red, a James Beard-nominated restaurant in Nashville. She loves hosting dinner parties, hanging out in the backyard, and attending local rock shows with her husband who happens to be a drummer. She graduated with honors from the University of Tennessee, Knoxville, where she received a B.S. in Journalism & Electronic Media with a concentration in magazine editing and musicology. While a student, she held esteemed internships at The Hollywood Reporter, The Lincoln Center, and DIY Network. Marion has spent most of her career working at the national and local-affiliate levels of broadcast news at Nexstar Media Group, Meredith Corp., Media General, and as reporter for OTR Global. She joined the Rural Media Group in May 2022, bringing a decade of experience to the digital side of broadcast media as well as some professional cooking experience to the team. Currently, she is the food editor at Budget Bytes.