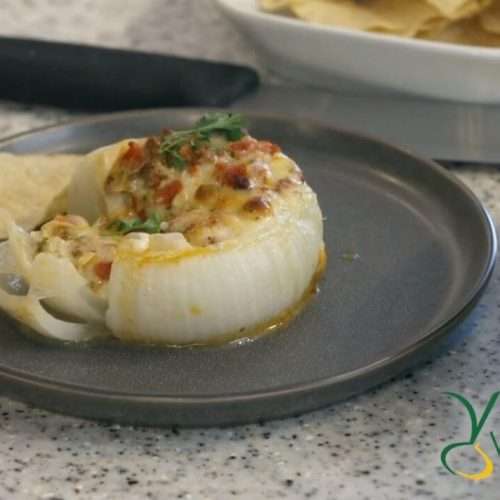 Mexican Cheese Dip Stuffed Vidalia Onions
This Recipe Is From Chef Holly's Commercials Featuring Vidalia Onions!
As seen in the commercials during WTFCF television Chef Holly and Vidalia onions!
Ingredients
6

Vidalia onions,

edges cut off, peeled, and cut in half

4

ounces

chorizo sausage,

cooked and drained

1

can tomatoes with green chilies

½

pound

white American cheese,

diced

2

tablespoons

cilantro,

chopped

¼

cup

onion,

diced
Instructions
Peel and cut ends off onions.

Use a small ice cream scoop to scoop out the centers of the onions leaving about a half inch wall around the outside. Set scooped out onions aside.

In a bowl add: 4 ounces chorizo sausage, 1 can tomatoes with green chilies, ½ pound diced American cheese, 2 tablespoons chopped cilantro, and ¼ cup diced onion. Mix well.

Set each onion on a piece of foil large enough to wrap onion completely.

Fill each onion completely with mixture. Wrap and seal each onion in foil and place on baking sheet.

Bake for about 1 hour or until onions are tender. Note: Depending on the size of the onions there may be leftover filling. You can heat this and serve on the side with additional tortillas or chips.
Serve With Flour Tortillas
About the Author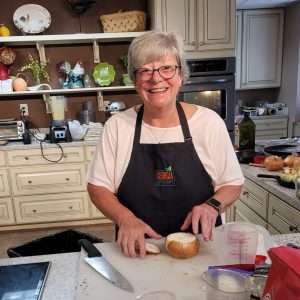 As Executive Chef for the Georgia Departments of Agriculture and Economic Development, Holly is the most visible face of the Georgia Grown Program, which promotes locally grown and crafted products.
Prior to her current position, she was Executive Chef of the Georgia Governor's Mansion, where she had the pleasure of serving six Georgia Governors. She has welcomed foreign heads of state, former U.S. presidents, supreme court justices... even members of England's Royal family.
Holly was recently honored as a Disciples d'Escoffier and currently serves as President for the Atlanta Chapter of Les Dames d'Escoffier.