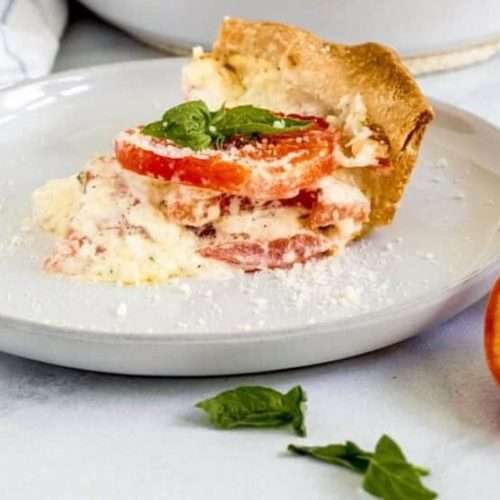 Mizz Jo's Tomato Pie
A favorite recipe and adaptation of Fresh Tomato Pie by Mizz Jo. She's called "Mizz Jo" by all who know her – but our Publisher and Host of Where The Food Comes From Chip Carter just calls her "Mom." A savory summertime Tomato Pie made by layering tomatoes slices, basil, onion, and a cheese spread into a pie crust and baked until golden and bubbly. Mizz Jo says, "Tomato pie is not sweet and can be switched up. You can change the cheeses or add tabasco sauce for a little extra kick. "Tomato pie is great for an informal meal -- you can't go wrong. Many people have never heard of Tomato Pie. But it is guaranteed family or guests will "scramble" for the last piece," says Mizz Jo. If you like pizza this is going to be a sure winner! If there is any left, reheat and enjoy the next day.
[editor's note: Picture shown is without the Ritz cracker topping.]
Equipment
9-inch round bakeware pie dish
Ingredients
9 inch

pie crust,

baked per instructions on package.

3

large Roma tomatoes,

washed and sliced.

¾

cup

mayonnaise

⅓

cup

shredded mozzarella cheese,

Note: Mizz Jo uses a blend of 6 shredded Italian cheeses.

⅓

cup

parmesan cheese,

grated

2

teaspoons

fresh basil,

Note: May substitute with dry basil.

2

teaspoons

fresh oregano,

Note: May substitute with dried oregano.
Optional
2

teaspoons

diced onion

1

roll

Ritz crackers,

finely crumbled

1

stick margarine or butter,

melted

additional basil and oregano

ground black pepper to taste
Instructions
First Prepare The Tomatoes
Wash and slice the tomatoes.

Place slices on paper towels to drain for 30 minutes. Note: Roma tomatoes drain quickly.

While tomatoes drain sprinkle 2 teaspoons basil and 2 teaspoons oregano on top of tomatoes.
What To Do
Place the pie crust in a baking dish and bake per directions on the package or until golden brown. Note: If using diced onions sprinkle over the bottom of the pie crust. Add additional basil, oregano, and ground black pepper to taste.

Add drained tomatoes to the pie crust and arrange over onions.

In a medium bowl add, ⅓ cup shredded mozzarella cheese, ⅓ cup grated parmesan cheese, and ¾ cup mayonnaise. Mix well and spread over the tomatoes.
Optional Ritz crackers
Melt 1 stick of butter or margarine and add Ritz cracker crumbs. Combine until mixture is a fine crumb consistency.

Spread crumbs on top of tomato and cheese mixture.

Bake for 20 - 25 minutes.
About the Author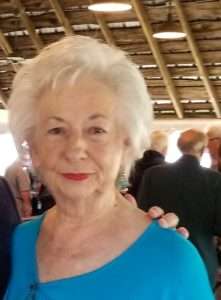 Jo Carter-Harbin grew up on farms in rural Georgia before becoming a successful real estate broker in metro Atlanta. As a sharecropper's daughter, she picked her share of cotton and everything else. But the boll weevil beetle ran the family out of farming by 1950. It worked out well. Jo is in a league of her own and her achievements are vast. In 1980 she was a Presidential Appointee to represent an effort to aid small businesses of America. She went to Washington, DC. to assist Congress and Sen. Sam Nunn in passing five pieces of legislation. She returned to Georgia and was appointed to the Divisional Small Business Advisory Board. Her actions aided farmers with small business loans and farming equipment across three states. In 1983 she was instrumental in creating the Business Council of Georgia, which later became the Georgia Chamber of Commerce.