New global uncertainties are impacting the trade and supply of staple cereal crops, creating mounting pressure for US farmers to step up domestic production. One example is the wheat market, which has been impacted by the recent collapse of the Black Sea Initiative.
The uncertainty over exports from countries like Ukraine and Russia have sent shockwaves through the international wheat market, leading to an 8.5% surge in US wheat prices. This marks the first increase in nine months, and the most significant increase since the outbreak of conflict between the two countries.
With this and other international supply challenges, US wheat farmers are presented with both an opportunity and a challenge to increase production and meet the growing demand. The need for the United States to boost its growth of domestic wheat production is more urgent than ever.
This article explores the profit opportunities available for US wheat growers.
Global Wheat Production Snapshot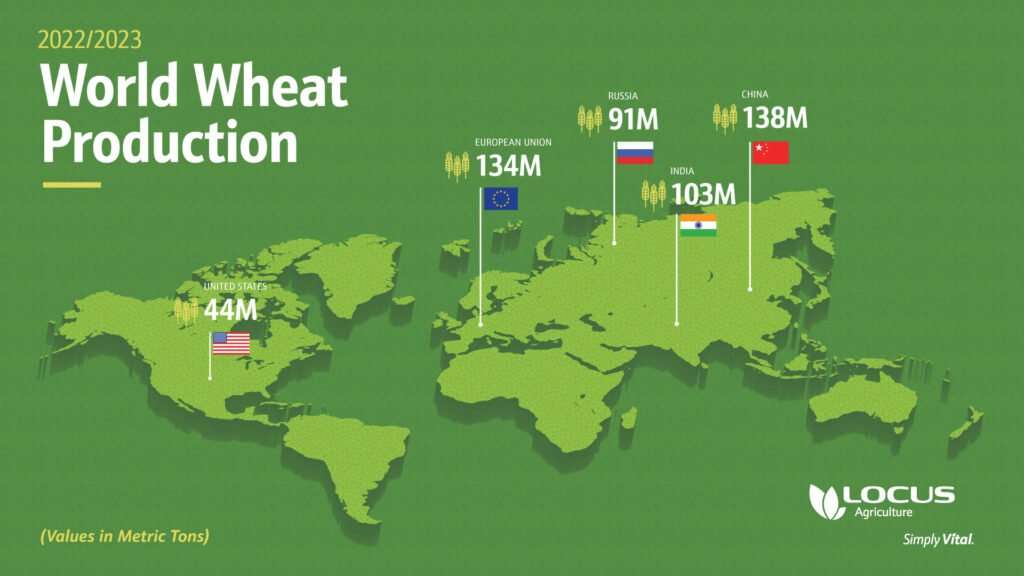 Wheat is the second most widely grown cereal crop in the world behind corn. The Food and Agriculture Organization of the United Nations forecasts global wheat production in 2023 will be 783.3 million tons—just barely higher than the forecasted wheat utilization of 783 million tons.
According to the US Department of Agriculture, the United States is the fifth largest global producer of wheat.
The five top wheat producing countries include:
China
European Union
India
Russia
United States
As wheat production plays a vital role to global food security, supply shortages from any high wheat- producing country can have rippling effects across the world.
Wheat Production And The Collapse Of The Black Sea Grain Deal
Historically, Ukraine has been commonly referred to as the "European breadbasket." The term refers to a region or country known for its significant agricultural productivity, particularly in wheat and other grain crops.
Ukraine accounted for about 10% of the global wheat exports in the 2021-2022 season.
However, in July 2023, Russia halted a deal to allow grain to flow from the Ukraine to other countries in Africa, the Middle East, and Asia. The U.N. Food and Agriculture Organization estimates that Ukraine's wheat harvest this year could fall by 20-30% compared to 2022, and overall grain harvests are expected to be down as much as 50% to pre-war levels.
This drop in trade and supply is already impacting both domestic and global wheat prices, as farmers around the world push wheat yields in attempts to cover the deficit.
Global Wheat Prices Surge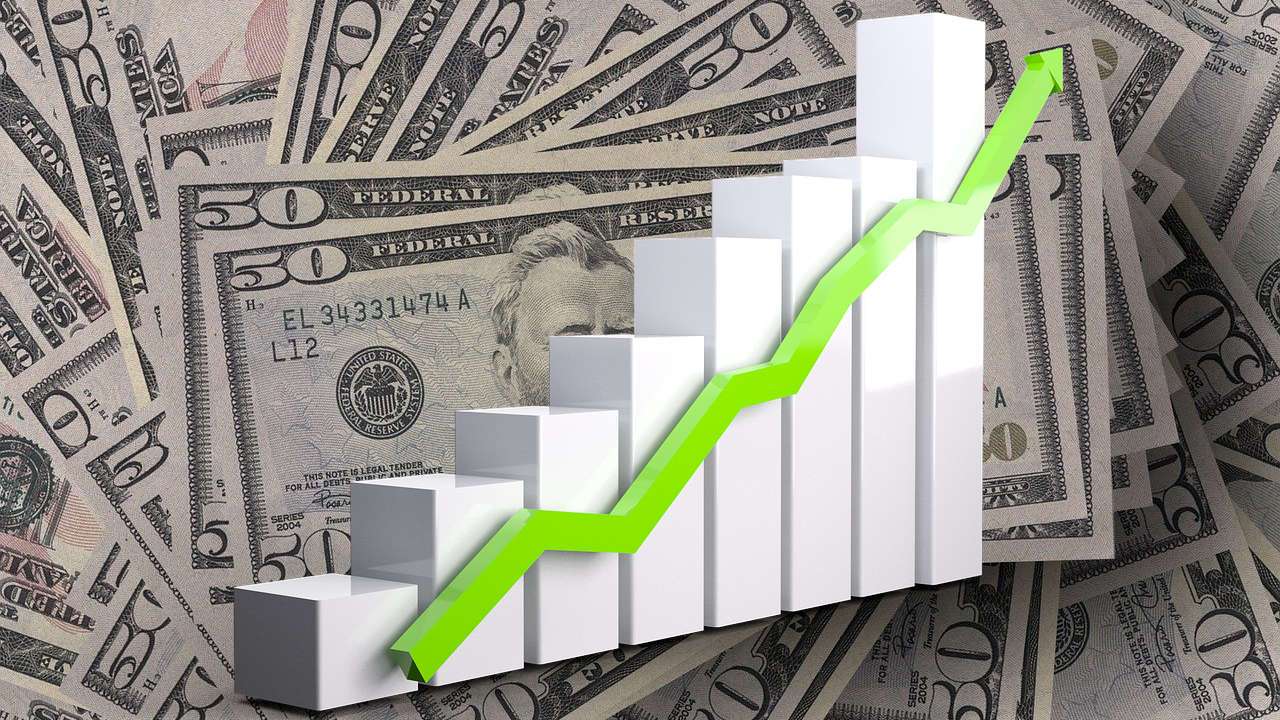 The suspension of the Black Sea Grain Initiative, along with other global supply challenges, has severely disrupted wheat trade—causing U.S. wheat prices to spike by 8.5%. According to the United Nations' Food Price Index (FPI), this is the first increase in nine months, and the most substantial increase since the onset of hostilities in early 2022.
The 2022-2023 season-average farm price for wheat in the US currently sits at a record of $8.85 per bushel. The 2020-2021 and 2021-2021 season-average farm prices were $5.05 and $7.63 per bushel, respectively.
Opportunity And Challenge For US Wheat Farmers
US farmers face both an opportunity and a challenge in maximizing their yields. The global demand for wheat is on the rise, with both global feed and residual use increasing overall wheat consumption.
While overall acres of planted wheat and production have declined steadily over the past few decades, the growing demand for this staple crop signals a need for US wheat farmers to ramp up production. This growing demand comes with an urgency to increase yields without compromising quality and efficiency.
Wheat ranks third among U.S. field crops in total planted acreage and production, just behind corn and soybeans. Chronic drought has been a major ongoing issue for winter wheat production in Kansas, America's top growing state. In other areas, such as North Dakota, an excess of wet weather conditions has wreaked havoc on spring wheat production.
Fortunately, US wheat farmers are not alone in these efforts to fortify wheat crops and bolster domestic wheat production to meet the growing global demand—which will also economically benefit farmers, due to the rising price of wheat.
US Wheat Farmers Embrace Agricultural Biologicals For Enhanced Performance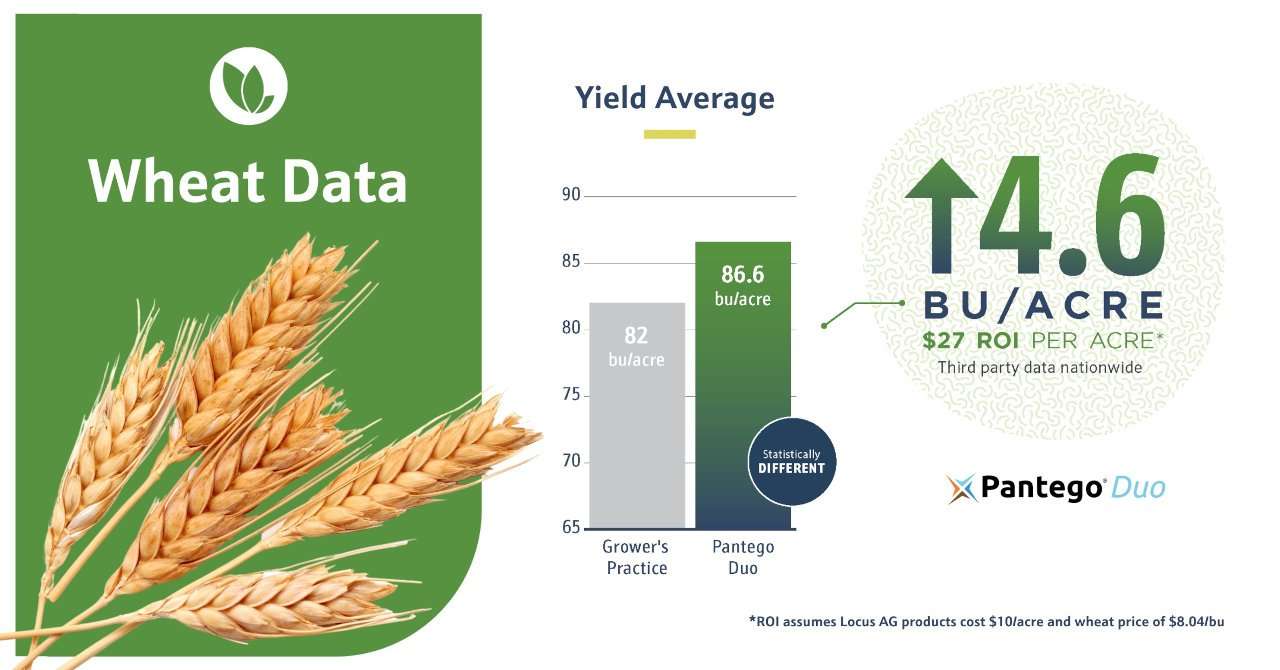 In addressing the challenge of increased production, more US wheat farmers are exploring innovative solutions to enhance their crop performance. Many have found success using US-produced agricultural biologicals specifically designed to boost wheat productivity.
Locus Agriculture (Locus AG) has developed biologicals featuring vital microbial strains that are precision-targeted to enhance wheat performance.
These strains are third-party tested and proven to:
Expand early root development
Enhance crop nutrient uptake and absorption
Increase nutrients in wheat tissue
Locus AG's biologicals are proven to increase wheat production by an average of 11% per acre. This boost in productivity translates to an additional $46 in revenue per acre, giving farmers a competitive edge in the market.
Spotlight: US Wheat Farmer Scott Scheimer's Success Story
One such farmer benefiting from the use of biologicals is Scott Scheimer, a seasoned wheat grower from Colorado.
"The soil probiotics are what turned me on to Locus AG," says Scheimer. "We're really shifting our input dollars, especially for phosphorus, and allocating it to the Locus AG products."
Scheimer's success serves as an inspiring example for other wheat growers seeking to enhance their yields and profitability.
Recent events related to the global wheat supply present a unique opportunity for US growers to meet the rising demand for domestic production and achieve profitable outcomes, with increased ROI from higher wheat prices.
By embracing specific vital strains of agricultural biologicals, farmers can bolster domestic wheat production, in addition to other cereal crops.
In doing so, they can make a significant impact on the global wheat market while enhancing their own financial security. US farmers are being called to once again, help to shape food security for, not only their nation, but also for the world.