We visited St. Petersburg's Brick Street Farms in the dead of summer — the Florida heat and humidity were stifling. Good thing Brick Street farms indoors!
Brick Street is part of the urban farming revolution that's going on across this nation. People are growing food any and everywhere they can — rooftops, community gardens, back porches.
Farms like Brick Street have taken that a step further. Everything they produce grows in converted refrigerated shipping containers — the same kind that things arrive in on ships and you see on the back of flatbed trailers behind semi trucks.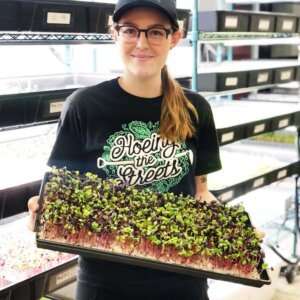 What they're growing is greens — lettuce, kale, microgreens, those kinds of things — and where they're selling is right in their own backyards.
And on a 1/3 acre paved space smack in downtown St. Pete, they're producing 45 conventional acres worth of product. And keep in mind the kind of yields acres of greens and herbs produce! It's a lot of product — enough to keep Brick Street's retail grocery partners stocked as well as its own storefront shop.
The result is a farming process that's incredibly efficient — computers deliver nutrition and water to plants drop by drop as needed — and 100% naturally organic.
Some folks may see this urban revolution as a threat to conventional farming — it's not. As we've all learned over the last few years, the supply chain is incredibly fragile. We need to maintain our ability to feed ourselves as a nation and not rely on imported food. As much food as we can grow, we can use.
Brick Street has an aggressive growth strategy in place. They began a trial partnership with a major grocery chain to place Brick Street units in those stores' parking lots. The result is herbs, greens and microgreens literally grown 50 feet from the produce case and likely harvested that morning.
They also partner with other local growers to expand the brand. On the day we were there, we actually got to follow Joe Iovino from Cactus Hat Mushrooms in Tampa across the bridge to St. Pete for a delivery.
Neat side story: Both of these companies were on my radar to make shows about. Before we did that, I went and did news pieces for RFD-TV Market Day Report on each. The two connected from those segments and Joe now grows premium Cactus Hat Mushrooms for Brick Street!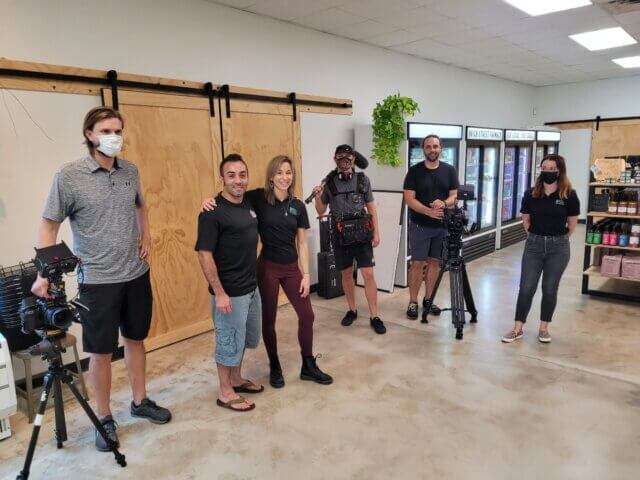 That's pretty amazing. And while the folks at Brick Street are as urban hip as their dirt-farming peers are country cool, make no mistake, they're all farmers. 
If you doubt that, start with the seed-to-stem process. Every plant at Brick Street starts as a seed that's placed by a worker using tweezers to insert the tiny blip into a plug of coconut husk shavings.
That's right — the same kind of coconut husk that's popular for foofoo drinks and tropical bras is actually a great growth medium for any crop. It has a mostly neutral base and it really holds on to water.
But it was incredible to see the growhouses stocked with thousands of plants, the ready to roll items that were already on the storefront shelf or getting ready to be shipped to partners, and realize that each and every one of those countless thousands was hand-planted by an actual person.
Now they were sitting in an air-conditioned room, of course, not in a hothouse or sunbaked field! Technology has a lot of side benefits, apparently.
Because what I remember most from that day, as amazing as the story was, was just hot. Hot hot hot hot hot hot hot. Every time we stepped outside the doors, rivers of sweat began to flow. Every time we went in one of the grow units or back in the warehouse or store, we were in a crisp, cool very welcomed shelter from the Florida sun.
I'm pretty sure all those little plants felt the same way.