The Hospitality, Culinary & Tourism Institute (HCTI) at Frederick Community College (FCC) is offering a new certification program, Culinary Medicine for Foodservice Professionals. FCC is the first culinary school in the country to offer this program and certification.
The Culinary Medicine for Foodservice Professionals program is designed for foodservice professionals with at least three years of industry experience, those employed at a healthcare facility, Certified Dietary Managers, graduates of accredited culinary schools, or those holding a certification from the American Culinary Federations (ACF). Those who complete the program earn a Certified Culinary Medicine Professional (CCMP) certification.
The goal of the program is to equip foodservice professionals with a unique combination of nutritional knowledge and improved culinary skills so they can integrate healthy choices into menus and aid consumers in making healthier dietary decisions. Comprised of online education and hands-on cooking modules, this course is designed for those passionate about integrating science-based nutrition research into their culinary skillset.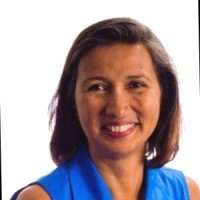 "I am thrilled to bring this innovative program to our community to teach professionals this new approach to healthy AND delicious cooking based on research," said HCTI Manager Elizabeth DeRose. "This program is designed for professionals cooking/developing menus for restaurants, cafes, caterers, schools, hospitals, healthcare, institutions, hotels, country clubs, resorts, contract food service companies, sporting and entertainment venues, airlines, cruise ships, and more. We are proud to be the first culinary school in the country to offer this program and professional certification in partnership with the George Washington University Culinary Medicine Program."
Culinary Medicine refers to the educational "health meets food" curriculum originally designed for healthcare professionals, including physicians, nurses, physicians assistants, registered dieticians, and pharmacists. The goal of this curriculum is to improve conversations between healthcare professionals and patients when it comes to health and nutrition.
The course begins June 6, 2023, and registration is open. A $500 scholarship is available to those enrolling in the program. This is a Continuing Education course. All students interested in the scholarship will need to complete the Continuing Education Scholarship Application.
For more information about this offering, visit http://www.frederick.edu/culinarymedicine.
Complete the Continuing Education Scholarship Application
https://app.perfectforms.com/PresentationServer/App.aspx/Play/a-QmgAYp?f=a-QmgAYp.
More information about Culinary Medicine is available at https://culinarymedicine.org/.