It may look like a lunchbox, but is it? HOTLOGIC®'s portable food warmers are equipped with an efficient heating plate at the bottom. Admittedly a little skeptical trying this out, but bowl me over, my camera man and I were very surprised.
The promise is a hot meal or snack no matter where you're going. Take a frozen or even uncooked meal to work, plug HOTLOGIC in – by lunchtime, you've got a hot meal.
What we found to be most impressive was our food cooked evenly. It cooks using a low-slow conduction method. What exactly does this mean? Conduction cooking transfers the heat source directly to the food in flat bottomed containers, like plastic or glass.  Let's face it, all of us have so many plastic containers compliments of takeout food. Good to have a use for them. On with the review.
Our first endeavor was with a frozen chicken and pasta meal. All we did was put the meal inside the unit, plugged it in, and waited 90 minutes – no stirring necessary. Ninety minutes sounds like a lot, but it was well worth it. We tasted the finished product and found the chicken to be moist and tender, not chewy like you may find from other cooking methods. All I could think of was heating my meal in a dirty microwave in an employee breakroom. Yuck! This was so much better. Points scored.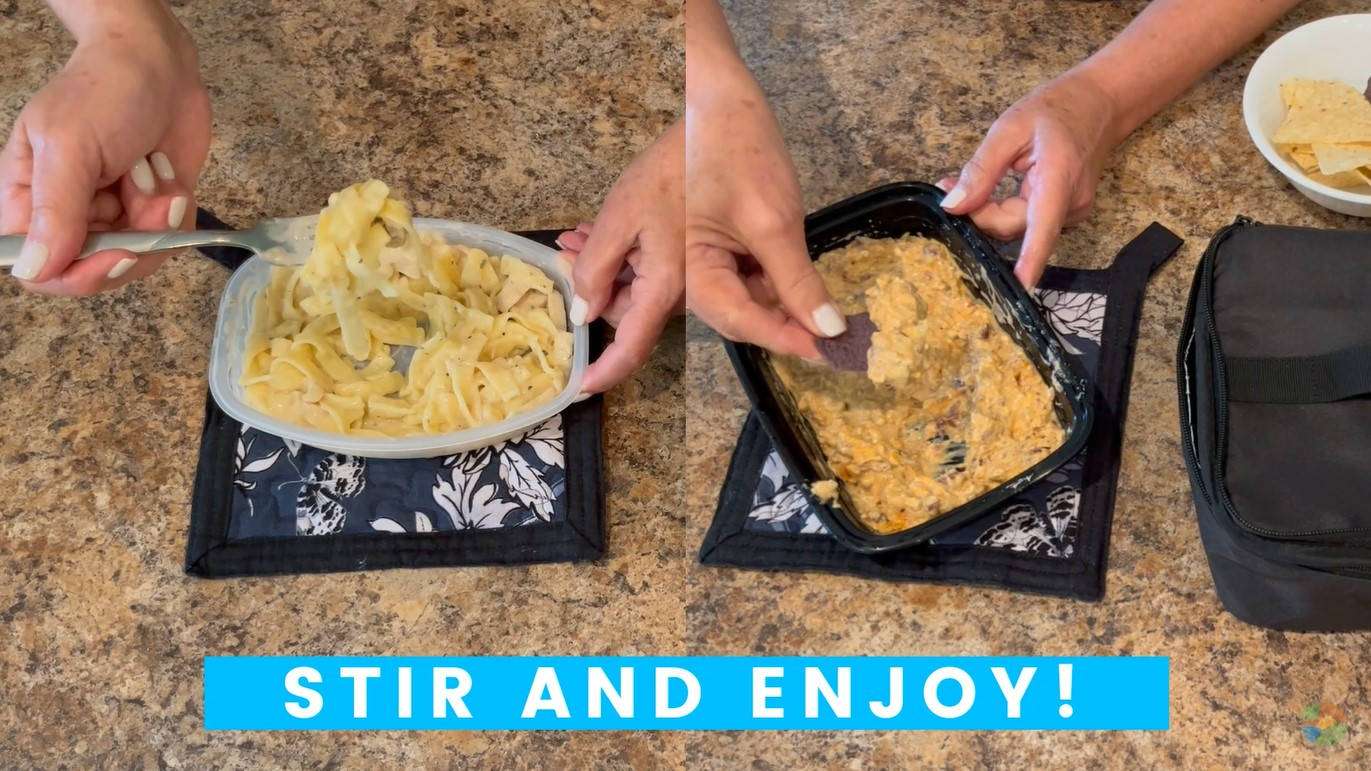 Up next: homemade Chili Cheese Dip. The process was the same. This simple recipe, from their instruction manual, turned out amazing. Sometimes when you heat dips up it may come out gloppy. Yes it is a real word. This was just delicious. Unfortunately for me, I ended up eating too much of it.
HOTLOGIC® does have a separate cookbook you can order. But, your own cooking creations would work as well.
Working from home I do not need this lunchbox. I gave it to my son-in-law who is a "road warrior" and doesn't have time to cook a meal or does not have access to electricity for that matter. What's the solution? "Road warriors" can use HOTLOGIC® in their car or truck with a standard power outlet or a 150-watt inverter for a cigarette lighter.
HOTLOGIC® comes in a mini, personal and family/maximum sizes with many color choices; pricing ranges from $49.95 to $99.95.
So if you don't like dirty breakrooms or are a "road warrior" HOTLOGIC® is for you.