Award-winning PDQ restaurants (People Dedicated to Quality) has promoted Kep Sweeney to Chief Executive Officer for the Tampa-based concept, which currently has 62 locations in five states. Sweeney replaces Nick Reader, who is transitioning into a Founder role with Co-Founder/Owner Bob Basham. The two founders created PDQ and are also partners in Rocca, a Italian restaurant in Tampa that was recently awarded a prestigious Michelin star, as well as other food concepts Bare Naked Kitchen, Glory Days Grill and Streetlight Taco (coming soon to Tampa).
Sweeney started with PDQ in 2020 and served as President for his first three years. Prior to that, he was a Consultant for CR3 Partners, focused on process improvement in the restaurant industry. With 30 years of business experience, Sweeney has a specialty in the restaurant and hospitality industries, and is a former Wall Street restaurant-industry analyst and the author of The New Restaurant Entrepreneur. Sweeney has provided expert-commentary work on CNN, CNBC, as well as other outlets and publications during his storied career.
"We are excited about our future with Kep at the helm and for all the things we can accomplish these next few years," said PDQ Co-Founder/Co-Owner Nick Reader. "He's a proven leader with a deep understanding of our business. Kep's love of our people and food is what makes me so excited. We've grown, we've fought a pandemic, we maneuvered through poultry inflation, and we've built a great company with a tremendous future."
Sweeney has additional experience in the culinary space while working at Stars for Jeremiah Tower and received an award from Julia Child to go to the Cordon Bleu in London. Sweeney also held roles as Chef de Cuisine for Bob Kinkead at 21 Federal and as an Executive Chef at 21 Federal Nantucket.
Sweeney earned his M.B.A. from the University of North Carolina's Kenan-Flagler Business School in 1996. He also studied political science from George Mason University and took a Continuing Education course in Negotiations at Harvard University. Sweeney and his wife, Alyse, are the proud parents of son Connor and daughter Maddie.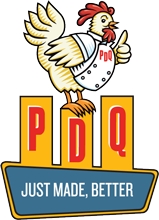 Founded in 2011, award-winning PDQ – short for "People Dedicated to Quality" – offers chef-driven recipes and mindful ingredients typically found in a fine casual restaurant with the value, speed and convenience of the fast food and fast casual segment. Bob Basham, a Co-Founder of Outback Steakhouse, and Nick Reader, former MVP Holdings CEO, are the two principal owners of PDQ. Beloved throughout the Southeast for its famous hand-breaded chicken tenders and signature sauces, PDQ also crafts delicious sandwiches, salads and hand-spun milkshakes fresh in store, every day. PDQ is committed to creating deep roots in its local communities and has given millions in dollars and in-kind donations to charities, schools, and organizations since its inception. On October 30, 2011, the original PDQ restaurant opened its doors in Tampa (FL) and the concept now has 62 locations in Florida, New Jersey, New York, North Carolina and South Carolina. For more information, visit www.eatPDQ.com.