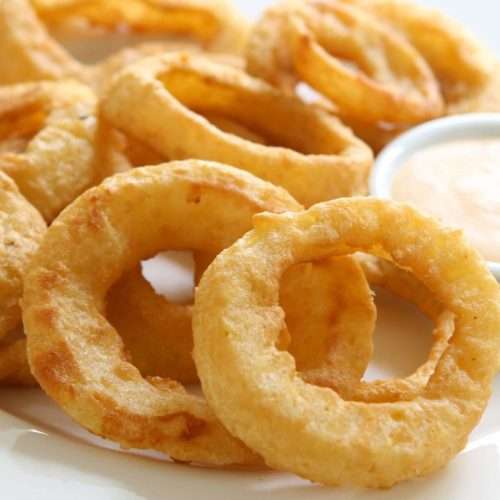 Chef Shannen Tune's Sweet Onion Rings
Recipe created for Shuman Farms by Food Network Chopped winner Chef Shannen Tune from Craft Burger. These beer-battered onion rings are easy to make and absolutely delicious - perfect for any party!
Ingredients
2

large RealSweet® sweet onions,

cut in large rings

4

cups

all-purpose flour

1

tablespoon

granulated onion powder

1

tablespoon

granulated garlic powder

12

ounces

craft seasonal beer,

chilled

vegetable oil for frying

kosher salt
Instructions
Combine 4 cups all-purpose flour, 1 tablespoon onion powder, and 1 tablespoon garlic powder.

Add 12 ounces beer. Mix until batter reaches the consistency of pancake batter.

Dip onion rings into batter and then slowly add rings into fryer. Fry on both sides until golden brown.

Remove onion rings from fryer and place on paper towels to allow excess oil to drain.

Season with salt and serve with a spicy ranch dressing.
About the Author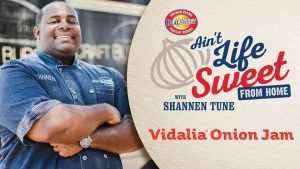 Chef Shannen Tune began pursuing his culinary dreams at Johnson and Wales University where he earned a degree in Applied Science of Culinary Arts. He trained with many notable chefs and worked for some of the country's finest hotels in Las Vegas, Los Angeles, Austin, and Houston. Chef Tune is notorious for taking comfort foods to a higher culinary level with subtle modifications. In January of 2016, he launched his gourmet craft burger food truck that uses all natural locally sourced beef and produce. Tune specializes in unique burgers that are truly indescribable. To view the website visit craftburgerhtx.com. Chef's Motto: "The difference between good and great is giving big attention to little details."