Collard Green Rolls
Like Collards? Give this a try.
Note: Depending on the length of the leaf, each leaf should yield 2 edible rolls.
Ingredients
1

bunch of Baker Farms collard greens,

stems removed and washed

8

ounce

container of chevre goat cheese

8

ounce

jar of plum jelly

8

ounces

of bacon,

cooked & crumbled
Instructions
Remove the stems from the greens and repeatedly wash the leaves to remove any excess soil.

Bring 1 gallon of salted water to a boil and place leaves into boiling water for 30 seconds.

Remove and immediately place in a cold water bath. Let stand in cold water for a few minutes.

Remove the leaves and drain excess liquid. Pat the leaves dry.
Assemble The Collard Greens
Spread each leaf out onto a flat surface.

Spread each leaf with a thin layer of jelly and a thin layer of goat cheese,

Sprinkle the crumbled bacon evenly over goat cheese and roll into a tight roll.
About the Author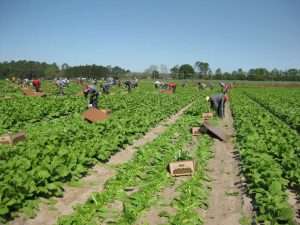 Terry Baker, founder and CEO of Baker Family Farms, learned early the value of hard work. He was a traditional Georgia row farmer, growing a mix of crops designed to keep bringing in enough to feed his growing family. But he was ambitious and his overwhelming drive to succeed led him to begin experimenting with different crops and new planting methods. Sons Joe and Richard made their way into the business and soon convinced their dad to try growing greens – turnips, collards, kale, the whole mixed bowl.
Greens weren't seen in the same light then as they are now. They were basically sustenance food for country folks. Nothing was known about their amazing nutritional and disease-fighting power.
But Terry had faith in his sons. And when the Greens Revolution hit about 20 years ago, they were well-positioned to take advantage.
Today, even though you can find them in grocery stores around the country, Baker Farms remains a true family business, headquartered in Norman Park, GA, that continues to grow and expand its operations while maintaining their original values.
Image: H-2A workers at Baker farms in Norman Park, GA. Credit: Chip Carter