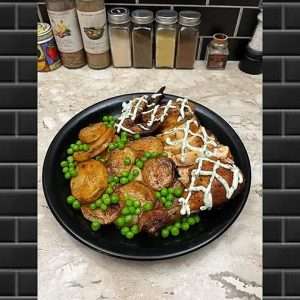 Portuguese Piri Piri Whole Roasted Chicken
Portuguese Piri Piri Whole Roasted Chicken with Crispy Potatoes....Piri Piri sauce is a little spicy, a little sweet, a bit salty and all around complex. It's like a flavor explosion in your mouth.
This recipe is compliments of Turbo Trusser — and don't miss WTFCF review of this impressive and simple new product.
Equipment
Roasting pan

Turbo Trusser
Ingredients
1

(5-6) pounds,

remove innards and rinse

2

pounds

redskin potatoes or medium russet potatoes,

peeled and sliced ¼ inch thick
Piri Piri Rub
5

tablespoons

Piri Piri spice powder

¼

cup

red wine vinegar

¼

cup

olive oil

1

tablespoon

coarse kosher salt

6

cloves

garlic,

minced

½

teaspoon

fresh ground black pepper
Green Sauce
1

cup

Greek yogurt

1

cup

Cilantro leaves,

not packed

½

teaspoon

kosher salt

½

teaspoon

ground coriander

1

tablespoon

lemon juice

1

tablespoon

olive oil
Instructions
Rinse chicken and remove any innards and pat dry with paper towels.
Piri Piri Rub
In a bowl add, 5 tablespoons Piri Piri spice, ¼ cup red wine vinegar, ¼ cup olive oil, 1 tablespoon coarse kosher salt, 6 minced garlic cloves, and ½ teaspoon fresh ground pepper. Mix well. Brush Piri Piri rub over entire chicken and under skin over the breast and inside the cavity of the chicken.

Marinate in refrigerator for 2 to 3 hours.

Place oven rack in the middle of the over and preheat to 425℉.

In a large bowl add, 2 pounds red potatoes, 1 tablespoon of Piri Piri mixture, and 1 tablespoon of olive oil. Toss to evenly coat potatoes and layer in the bottom of a greased roasting pan.

Truss the chicken with the Turbo Trusser (see video below) and place in oven.

Roast chicken at 425℉ degrees for 15 minutes and then turn oven down to 350℉ degrees.

While the chicken is roasting prepare the green sauce.
Green Sauce
In a food processor, add 1 cup Greek yogurt, 1 cup cilantro leaves, ½ teaspoon ground coriander, 1 tablespoon lemon juice, and 1 tablespoon olive oil. Blend mixture until it is smooth and creamy.

Finish roasting chicken until internal temperature has reached 165℉.

Remove from oven and let cool for 10 minutes.

Remove Turbo Trusser, carve, and plate.

Sprinkle chicken with green sauce and garnish with buttered green peas.
About the Author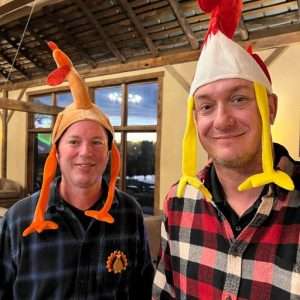 Meet the brain-children behind the kitchen gadget the Turbo Trusser.
Kirk Hyust is a multifaceted individual with a diverse range of skills and interests. With 20 years of experience in construction, Kirk is a seasoned professional in home remodeling and has a keen eye for detail. But that's not all, he is also a former chef who trained at the prestigious Culinary Institute of America, showcasing his passion for creativity and the arts. In addition to his construction and culinary expertise, Kirk is also an inventor with a passion for innovation. He holds 10 patents on various inventions, demonstrating his innovative spirit and problem-solving abilities. 
Brian Halasinski is a highly experienced professional in the pharmaceutical industry, with 18 years of experience under his belt. He holds a four-year business degree from Kent State University and a Master of Business Administration from Malone University, showcasing his dedication to education and professional growth. Brian's entrepreneurial spirit and drive have made him a valuable asset in his field, and his commitment is evident.