The Turbo Trusser, my favorite new kitchen gadget — you saw the product review earlier this year (Don't Get "Tangled Up" In Cooking Twin – The Turbo Trusser Solves An Old Problem For Poultry). But we also had a fascinating conversation with the inventors Kirk Hyust and Brian Halasinski, two guys who had the courage to go on Shark Tank (S14, E1) in some fairly fowl costumers and chase their dreams. 
Was it worth their while? Well, they got a deal with Mr. Wonderful, Kevin O'Leary, out of it! And we got the Turbo Trusser, a 20-second wonder that does away with the need for string for prepping poultry ever again. I'd say it's working out:
Donna Sanders: I love the Turbo Trusser. What a simple concept and talk about easy to use. You guys are amazing. Tell me a little about yourselves?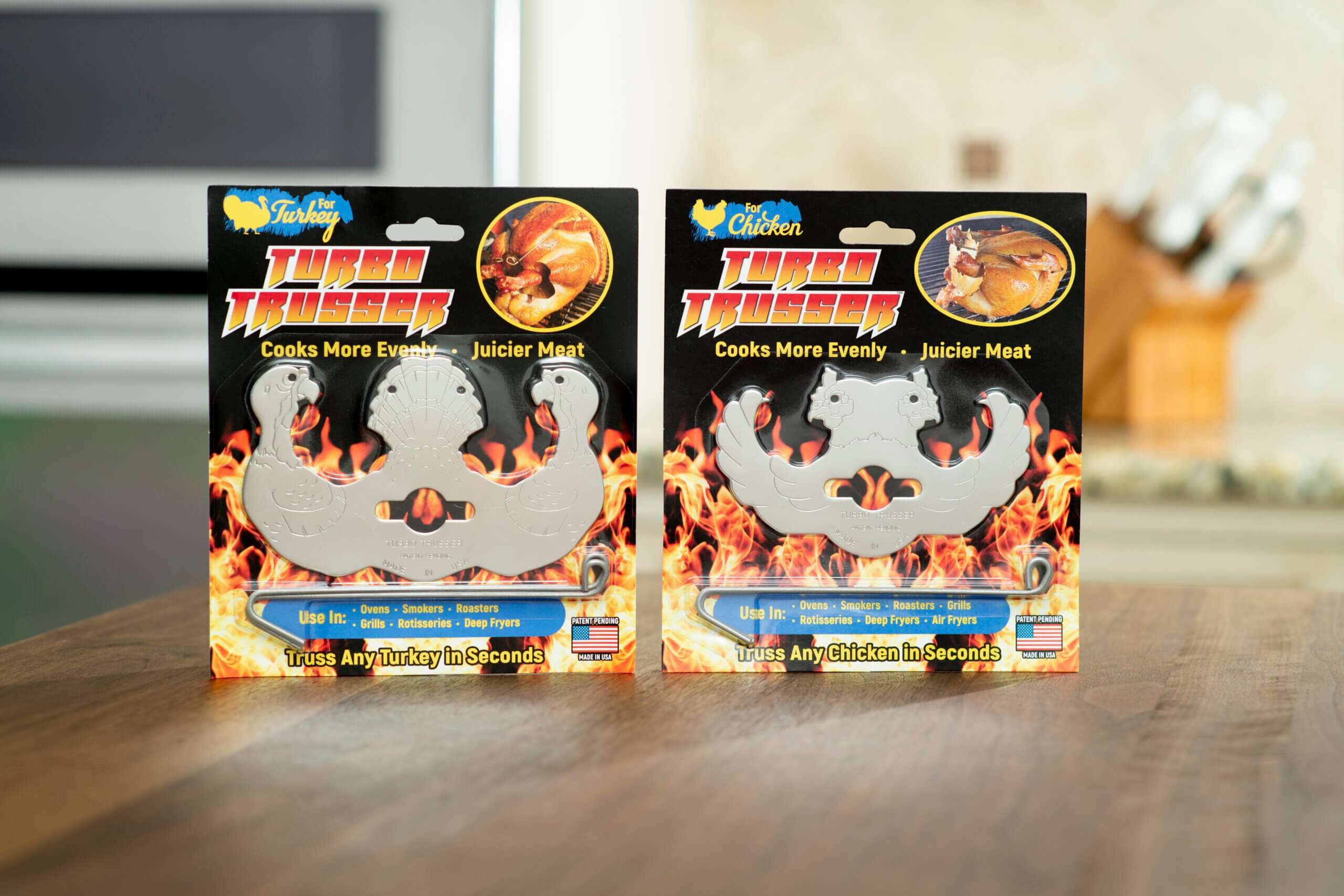 Brian Halasinski: I'm in pharmaceuticals and Kirk is in construction. Kirk is a chef, he went to Culinary Institute of America.
DS: Pharmaceuticals and construction. What an interesting combination. How did you end up being partners?
Brian: About six to seven years ago I moved and on a recommendation Kirk came over and gave me a quote on some renovations that I needed done. We ultimately went with Kirk and he was at my house for six months. During that time, he was in the process of inventing a product called The Kirk Wrench. I got interested in inventing. So we ultimately started to invent barbeque products.
DS: I know together you invented five to six products for barbecuing. But the Turbo Trusser, in my opinion, is one of the best things I have seen on the market in a very long time. How did you come up with the idea?
Brian: At one point I was at home trying to tie up a chicken. I had my IPad out and [was] greasing up the screen. So after I couldn't figure it out I texted Kirk. I'm like man, 'I am trying to truss this chicken. This is ridiculous.' 
Kirk Hyust: Yeah, I hate trussing chicken too. I tied up many chickens and I detest it.
Brian: So I was like there's gotta be a better way. We googled it first to see if someone else is already selling it. We did a background patent search and when we realized there was nothing for it. [We] set out and started to come up with prototypes for the Turbo Trusser. It started with cardboard and some wires. We were going to have wires involved. Like actual flexible wires and probably seven to eight different prototypes, then getting into the laser-cut pieces, ultimately to manufacturing it, and going on Shark Tank.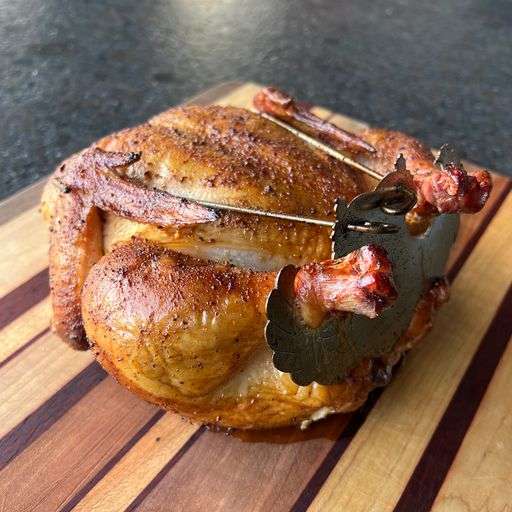 DS: You didn't go through the standard method of marketing it. It was during Covid and licensing a product became difficult. How did you get it to market?  
Kirk: This was so easy and so simple to make we knew we should try to launch it ourselves. We could make it right here in Ohio. That was a huge important step for us was to make it in Ohio.
Brian: The idea was so simple. The manufacturing processes are well established. We didn't have to go overseas, we can start with small quantities, you're not buying a shipping container full of stuff, you don't have to go to China or trust somebody in China to manufacture it. We just said if we can do it close by, in Ohio, let's see if we could do it.
DS: You did have investors, but minimal sales. This eventually led you to apply to appear on Shark Tank. You actually applied twice. I would think the process would be difficult. How were you able to get on the show?
Brian: It use to be you had to go to casting calls like American Idol and sing, but you go in there and pitch. But with the pandemic it moved the whole thing online. So I went back in and applied again and in April they contacted us. They were interested in hearing more and that began the process. Pretty much weekly calls with ABC, Shark Tank, and the producing crew leading up to July 17. At one point they were like, You need to make a video and send it to us.
DS: I have a picture of Kirk in a turkey hat and Brian you're in a chicken hat. But, that is not what you wore on the show. You went full chicken and turkey suits. You guys were really committed and wanted to make a major impact with the full suits! Did the chicken and turkey suits give you the ability to hop on stage? Like a mascot for your own product?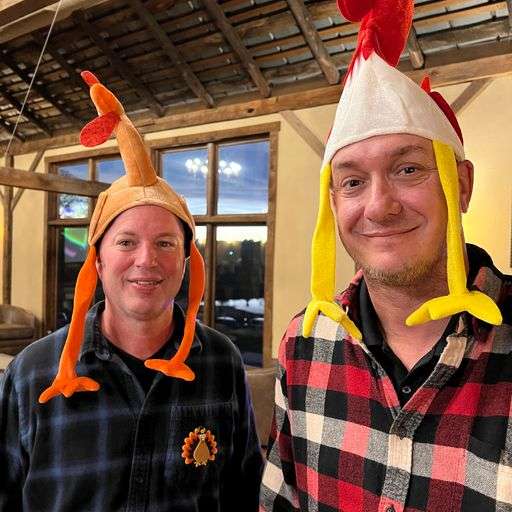 Brian:  I think you're right. What more can you throw at me if I am in a chicken suit? If we can come out here looking like this, you know we are all in. What more can you do to us? We're already flapping our wings. I am sure there's a few people out there that saw us in costumes and said they're idiots, but that's fine.
Kirk: You gotta be good TV. You have to entertain the audience.
DS: Lets face it those costumes are hot. How was it under the TV lights?
Brian: At one point, Barbara Corcoran told somebody to come over and said, "Can you pat him down — he's sweating?"
Kirk: They stopped the production.
DS: Standing in front of the sharks must have been a bit intimating, especially when they say no. What were you thinking and feeling when they said no?
Brian: I think a lot of times, just from watching the shows, they know whether they want to invest or not. Barbara was like the market is not big enough. I'm like 87 million turkeys are cooked between Thanksgiving and Christmas. That is a big market. It was so chaotic that when a no came in, there was still people talking so you were just like, Oh my god, he said no… WHAT!
Kirk: It's really intense.
Brian: Five of these guys asking questions, talking over each other. So when one says no, it's time to [move] onto the next. Until we got to Kevin O'Leary and he was the only one left. He was like, There is blood in the water, I'm the last shark. I am gonna take them and get what I want. And you know what? It did not matter, it was worth it.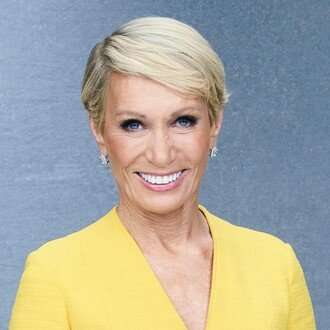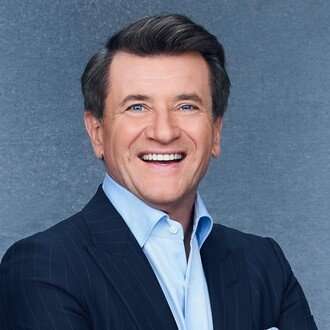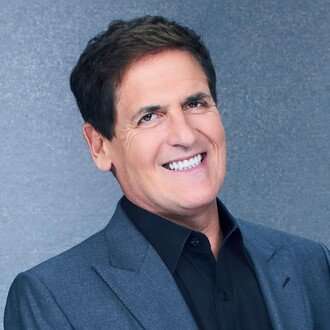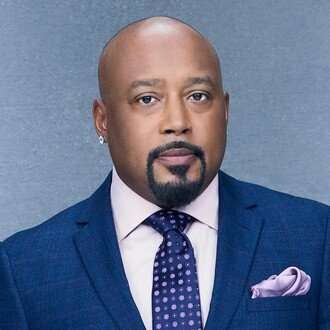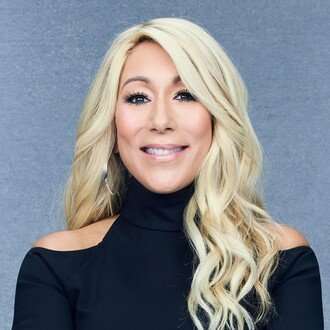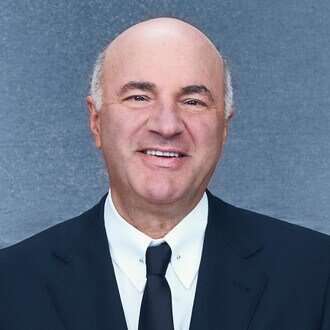 Kirk: He was the last one and I was on the fence. I was like, man it's all royalty and perpetuity.
Brian: We went in there and asked for $100,000 for 10 percent. I think, realistically, Kirk and I both thought there is no way they are going to ask for more than 25 percent. You go into Shark Tank with a [price] point in mind that says we are not going to go over that. Until that offer comes in and then it's like well, ok…
DS: We haven't talked about your offer. What did Kevin, Mr. Wonderful, come in with?
Brian: "I want 33.3%. I want a dollar royalty and perpetuity." We're going back and forth. Lori Greiner looked over and said, "I thought you said you were going to have a heart this season?" And he goes, "Nope, this is going to be a lot of work and I want to be the third chicken."
DS: I occasionally watch Shark Tank. Kevin truly comes off like a shark. Dominate, singled-focused and with a killer look in his eyes. What is it like working with Mr. Wonderful?
Brian: Funny you should say that. I think it his persona. When we talked to people and producers on the set it was the opposite. He's the best guy there. He is so nice. We've had very little interaction with him, but we talk to his team all the time.
Kirk: He has been doing a lot of work for us.
Brian: He has been very good about being accessible to do interviews. He has made videos and posted things on his social media pages.
DS: You have your deal and everybody is working hard. How is it working out for you now?
Brian: So far we are on pace. We hit our goals for the year. We are definitely ahead of where we were before Shark Tank for sure. Just being on Shark Tank alone [gives you] that credibility. Having that seen on Shark Tank is validation. Now we're legit. You get that logo; you get to use it. But you don't get to use that logo unless you get a deal. It's a coveted logo. It's like "As Seen On TV!" back in the day.
Kirk: But better.
Brian: ABC has put us on there. Kevin bought in. You see him doing stuff. We've got a long way to go. We've got new products we're going to launch. All of our stuff is made locally in Northeast Ohio. So we are all about creating jobs here in the local community.
DS: It is so admirable of both of you to keep it in the U.S. Taking it to China probably would have been so much easier. Fascinating story all around. So what's next for the Turbo Trusser?
Brian: Our product has sold from our website turbotrusser.com and on Amazon; now we're looking in Quarter 4 to put some displays in the retail grocery market.
Kirk: Just for turkeys.
Brian: Just turkeys. It has a display of Kevin in his chef outfit, holding up the Turbo Trusser.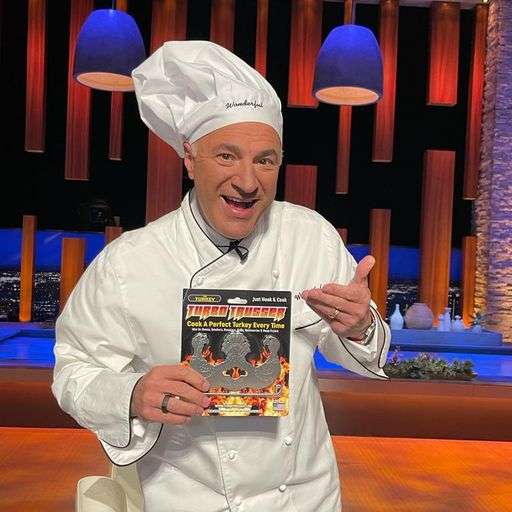 DS: You mentioned you have a few things in the works. Can you give us a preview?
Brian: Turbo Trusser for Cornish hens, a portable grill with some other features, and a poultry rub. We don't want to go crazy. Keep our niche with poultry and go from there. We just have to be better than we were last year and continue to grow and make good products. If we make good products and people like them they'll talk about them.